CHICAGO, August 21, 2023 /PRNewswire/ — MarketsandMarkets has introduced the 360 Quadrant analysis for the leading Top 20 Personal Care Ingredients Companies worldwide in 2023. This analysis aims to enhance decision-making efficiency for businesses. The positioning of companies within quadrants is based on their market presence and product footprint, with annual revisions planned.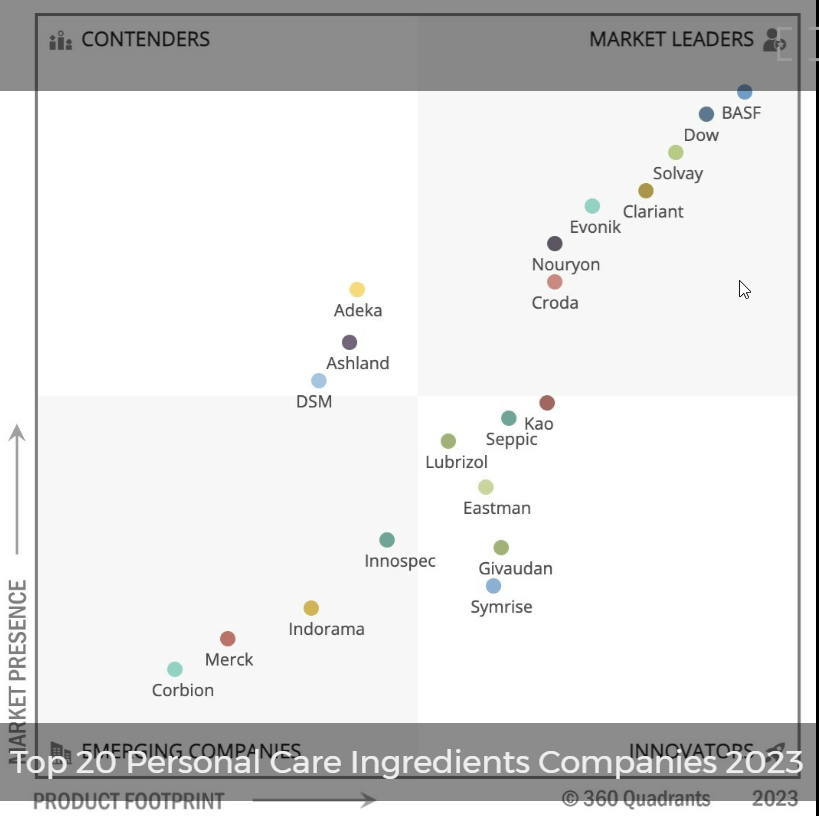 ---
Insights into Top 20 Personal Care Ingredients Companies 2023
The personal care product ingredients market is projected to grow at a Compound Annual Growth Rate (CAGR) of 4.0% between 2022 and 2027. This growth will propel the market from an estimated USD 11,796.0 million in 2021 to USD 14,897.0 million by 2027. The burgeoning population in developing countries such as China, India, Indonesia, Malaysia, Brazil, and South Africa is a primary driver of this expansion. Increased awareness of personal hygiene and health has sparked a growing demand for ingredients used in personal care products. The demand for compounds like antiaging agents, exfoliators, ultraviolet (UV) agents, moisturizers, antioxidants, and antimicrobials is also contributing to this trend. Government regulations curbing the use of synthetic personal care ingredients in the US, Europe, China, Japan, and other countries are restraining commercial growth. Similarly, the desire for natural personal care products in nations like the US, France, China, and Germany is limiting market expansion.
The market for personal care ingredients is stimulated by the rising purchasing power and evolving lifestyles in developing countries. Rapid innovation in personal care product components is also a driving force. On the other hand, governmental regulations related to cosmetics and healthcare products serve as a market constraint. Promising market potential in emerging economies is expected to further fuel expansion in the near future.
For further insights, access the research report at https://www.360quadrants.com/chemicals/personal-care-ingredients-market.
---
Unveiling the Market Leaders: Recognizing Excellence in Personal Care Ingredients Market
---
Categorization of Personal Care Ingredients Companies on 360 Quadrants
A comprehensive evaluation of 200 personal care ingredients companies led to the categorization of the top 20 into Market Leaders, Contenders, Innovators, and Emerging Companies on the 360 Quadrants.
Market Leader segment consists of companies with strong offerings and a significant ability to influence the market direction. This category includes BASF, DOW, Solvay, Clariant, Evonik, Nouryon, and Croda.
Contenders, like Adeka, Ashland, and DSM, possess a robust market presence and excel in specific niches, wielding substantial influence and impact.
Innovators, including Kao, Seppic, Eastman, Lubrizol, Givaudan, and Symrise, are highly innovative with a strong product portfolio, although they have a smaller market presence compared to leaders.
Emerging Companies, such as Innospec, Indorama, Merck, and Corbion, offer specialized knowledge, targeted support, flexible terms, and competitive prices, targeting specific use cases to expand their sales and reach a broader client base.
---
Evaluation Criteria and Scoring Methodology
The vendor evaluation involved over 200 companies, with the top 20 categorized as quadrant leaders. Factors such as revenue, geographic presence, market share, and business strategies contributed to this evaluation. The top evaluation criteria included product type and application, such as Emollients, Surfactants, Rheology Modifiers, Emulsifiers, and Conditioning Polymers for Skin Care, Oral Care, Hair Care, and Make-up.
360Quadrants employs a transparent scoring methodology, considering parameter weights to generate scores. Normalization ensures fairness, and scores categorize solutions into Market Leaders, Contenders, Innovators, and Emerging Companies. This approach empowers users with accurate information to make informed decisions.
For more information, please visit https://www.360quadrants.com/chemicals/personal-care-ingredients-market.
---
Related Content