Aptar has been named one of Barron's 100 Most Sustainable Companies for the fifth consecutive year and is ranked number 55 out of 100 companies for 2023.
"As a company committed to a more sustainable and equitable future, we are delighted to again be named among the top 100 Most Sustainable Companies by Barron's," said Stephan B. Tanda, Aptar President and CEO. "We are advancing important efforts in our industry that help our employees, customers and community partners create a better future and we believe that being a proactive leader in sustainability is also a key competitive differentiator."
---
Considerable progress of Aptar global sustainability strategy
Aptar has made considerable progress advancing key areas of its global sustainability strategy. Recent highlights include:
Receiving the Platinum level rating from EcoVadis as a sustainable company, which places Aptar among the top 1% of the nearly 90,000 companies rated by EcoVadis across all industries
Sourcing more than 95% of Aptar's global electricity consumption from renewable sources and certifying 65% of Aptar sites as Landfill Free through our internal program
Receiving an "A-" letter grade on the CDP Climate assessment, as well as an "A-" letter grade on the CDP Water assessment
Focusing on the eco-design of products, which is aligned to that of Aptar's partners at the Ellen MacArthur Foundation, the World Business Council for Sustainable Development and many other organizations who are working towards a more circular economy
Serving as an active member of the United Nations Global Compact and the Ellen MacArthur Foundation's Circular Economy 100 (CE100) Network
After significantly surpassing our original Scope 1 and 2 targets, we validated our revised Scope 1 and Scope 2 reduction target by the Science Based Targets Initiative (SBTi) in early March 2023 to align to the requirements to keep global warming at 1.5° Celsius by 2030. Aptar also has validated SBTi targets for Scope 3 emissions and renewable energy purchases.
---
Methodology on sustainable scoring
This is the sixth year Barron's has published its list of companies with the highest ESG (Environmental, Social and Governance) scores. Barron's partnered with Calvert, a leader in ESG investing, to build the list of the most sustainable companies. Calvert evaluated the 1,000 largest publicly traded companies by market value, then ranked each by how they performed for five key constituencies: shareholders, employees, customers, community and the planet. It also reviewed more than 230 ESG performance indicators from seven rating companies, including ISS, MSCI, and Sustainalytics, along with additional data. Calvert also ranked companies in 230 ESG performance indicators including workplace diversity and greenhouse gas emissions.
---
Overall Listing of sustainable companies in the World
| 2023 G100 Rank | 2022 G100 Rank | Name | Carbon Productivity Score | Water Productivity Score | Waste Productivity Score | Sustainable Revenue Score | Overall Score |
| --- | --- | --- | --- | --- | --- | --- | --- |
| 1 | 15 | Schnitzer Steel Industries Inc | 75,8% | 81,0% | 61,5% | 100% | A+ |
| 2 | 1 | Vestas Wind Systems A/S | 87,9% | | | 100% | A |
| 3 | 10 | Brambles Ltd | 96,4% | | | 100% | A |
| 4 | | Brookfield Renewable Partners LP | 86,4% | 62,6% | | 97% | A |
| 5 | 3 | Autodesk Inc | 46,9% | | | 99% | A |
| 6 | 19 | Evoqua Water Technologies Corp | 13,2% | | | 100% | A |
| 7* | 17 | Stantec Inc | 74,5% | | 70,0% | 88% | A- |
| 7* | 4 | Schneider Electric SE | 90,0% | | 87,3% | 100% | A- |
| 8 | | Siemens Gamesa Renewable Energy SA | 97,5% | 76,0% | 38,6% | 95% | A- |
| 9 | | Taiwan High Speed Rail Corp | 81,3% | | | 100% | A- |
| 10 | 9 | Dassault Systemes SE | 60,1% | | | 96% | A- |
Exhaustive 100 Most Sustainable Companies List (excel file) could be downloaded below: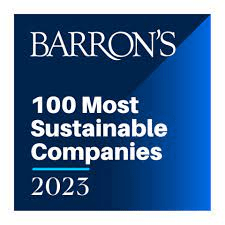 ---
About Aptar and their sustainable products
AptarGroup Inc. is a global leader in the design and manufacturing of innovative dispensing solutions for a wide range of industries, including beauty, personal care, home care, food and beverage, and pharmaceuticals. The company offers a diverse range of products that meet the needs of its customers in terms of sustainability, functionality, and aesthetics.
One of the key strengths of AptarGroup's products is their sustainability. The company is committed to reducing its environmental impact and offers a range of sustainable solutions that help customers achieve their own sustainability goals. These solutions include refillable and reusable packaging, recycled materials, and biodegradable materials.
AptarGroup's dispensing solutions are also known for their functionality. The company offers a range of dispensing systems that are designed to meet the specific needs of its customers. These systems include pumps, sprays, and aerosols, among others. AptarGroup's products are also designed to provide consumers with convenience and ease of use, with features such as one-handed dispensing and precise dosing.
---
Aptar and enhance overall user experience
In terms of aesthetics, AptarGroup's products are designed to enhance the overall user experience. The company offers a range of customization options, including different colors, shapes, and finishes, to help its customers differentiate their products and stand out in the market.
---
Key competitors
Some of AptarGroup's key competitors in the dispensing solutions market include Silgan Dispensing Systems, Berry Global Inc., and Gerresheimer AG. While each of these companies offers a range of innovative dispensing solutions, AptarGroup's sustainability and functionality give it an edge in the market.
When benchmarked against its competitors, AptarGroup's products stand out for their sustainability and functionality. The company's commitment to sustainability and its range of sustainable solutions give it an advantage over competitors who may not prioritize sustainability. Additionally, AptarGroup's focus on functionality and user experience sets it apart from competitors who may not offer the same level of convenience and ease of use.
---
In Short
AptarGroup's products offer a unique combination of sustainability, functionality, and aesthetics that sets it apart from its competitors. As the market for dispensing solutions continues to grow, AptarGroup is well positioned to meet the needs of its customers and drive growth in the industry.
---
Related Content