GO BACK TO USEFUL CONTENT INDEX >>
---
---
Permaculture, a sustainable design philosophy
Permaculture is a sustainable design philosophy that aims to create harmonious and sustainable ecosystems. This, by mimicking the patterns and relationships found in nature. It is a rapidly growing movement that seeks to address some of the biggest challenges facing our planet. This includes climate change, soil degradation, and food insecurity.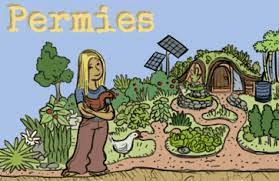 ---
Interested in learning more about permaculture?
Look no further than Permies.com if you're interested in learning more about permaculture. And how it can be applied in practical ways. This website is a treasure trove of information, resources, and inspiration for anyone interested in permaculture and sustainable living.
One of the standout features of Permies.com is its collection of 177 hours of video content. Which includes the Permaculture Design Course and the Appropriate Technology Course. Some of the most experienced and knowledgeable practitioners in the field teach these courses. Covering a wide range of topics related to permaculture and appropriate technology.
---
Top categories
Most folks that come here are interested in permaculture and homesteading community. Here are the top forum categories: permaculture, gardening, way beyond, organic, growies, bees, chickens, ducks, pigs, goats & sheep, critters, go natural, wofati, straw bale, earthship, buildings, living, independent in the city or country, homesteading, solar, wind hydro, stoves / heaters, energy, cooking, frugality, medicinal herbs, food, kitchen, transition towns, repair, ecovillage, community, survival, hunting, fishing, wildcrafting, wilderness, missoula, cascadia, rockies, southwest, regional resources, design, courses, workshops, education, sepp holzer, geoff lawton, fukuoka, smits, artisans, politics, ethics, social justice…
---
The permaculture Design Course
The Design Course is a comprehensive introduction to permaculture. This covers everything from the basics of ecology and soil science to practical techniques for designing and managing sustainable systems. Over the course of 82 hours of video content, you will learn about topics such as water management, food forestry, natural building, and regenerative agriculture. You will also get to see examples of permaculture systems in action, and learn from the experiences of seasoned practitioners.
---
The Technology Course
The Appropriate Technology Course, on the other hand, focuses on the practical application of sustainable technology in everyday life. This course includes 95 hours of video content, covering topics such as renewable energy, sustainable transportation, natural building, and low-tech solutions for water and sanitation. Whether you are interested in building your own solar panels, designing a rocket stove, or creating a composting toilet, this course has something for everyone.
In addition to these courses, Permies.com also offers a wealth of other resources and tools for anyone interested in permaculture and sustainable living. The site features a vibrant forum community, where members can ask questions, share ideas, and connect with like-minded individuals from around the world. There are also a variety of articles, podcasts, and other resources available for free, covering topics such as gardening, homesteading, and regenerative agriculture.
Overall, Permies.com is an invaluable resource for anyone interested in this field and sustainable living. With its extensive video library, active forum community, and wealth of other resources, it is the perfect place to start your journey towards a more sustainable and regenerative future. Whether you are a seasoned practitioner or a complete beginner, there is something here for everyone. So why not check it out today and start exploring the world of permaculture?
---