Itineraire; Maps and Pictures could be found HERE!!!
Wat are the things to know about traveling around the world and promote ecology? How do we get ready to for a world tour? What do we need to bring for our travels? And what about money, safety, food, hospitality, transportation? this is the questions that we're currently facing.
The idea of leaving everything behind and traveling is flourishing in our head, but we still have many questions and some fear about the unknown that's expecting us.
To better answer all the questions running in our head, we've decided to divide this article in 2 parts:
Motivation. Because we need to be 100% psychologically ready to travel.
Preparation. Because we need to all the right tools to travel
Motivation
Even though we might already consider traveling, we probably still have a few doubts. And needless to say that friends and family are probably not helping: their love for us, is such that they don't want to see us leave for no reason or for the wrong reason.
We need to be 100% at peace with ourself about our traveling decision before we can convince others that this is what we must do.
How old should we be to consider a World Tour?
This is the FIRST thing that comes in mind of everyone who wants to travel, and the FIRST thing that comes in mind of everyone who don't want to see you travel:). In September 2021, I'll turn 50 years old and my partners around the same 🙂
Right now is not the right moment.
So let met tell you this: Everyday is the perfect day to quit everything and just go travel, for the simple reason that there's no perfect moment to do it.
It's very easy: we're either too young, or without money, or with the need to study, or we need to find your first job, or pay back our loans, or think about our career, or plan for investments, or take care of our children (I have 2 wonderful daugthers Leyla and Dina), or plan our retirement.
Ourself or others will ALWAYS find a reason or an excuse not to travel. So without trying to sound too much like Nike: JUST DO IT!
Preparation
We're ready in our mind. We're doing it. No one is going to stop us.
Good!
It's now time to get things real and actually start booking that flight.
What to pack
The luggage
What we take with us depends on what kind of journey we're embarking on.
We're planning on camping in the wild, so we'll have to grab a 70L backpack with a tent and a sleeping bag.
As a general way, we recommend grabbing a backpack as it is a much more versatile tool than a rolling luggage. If we decide to go for a hike somewhere, we can use that very same backpack and not have to carry an extra one.
But most importantly, a backpack makes us look like a traveler whereas a rolling luggage makes us look like a tourist.
Should we travel to a place defined as a "developing country", we're much less likely to attract attention or get scammed if we look like a traveler rather than a tourist.
The content
Again, the nature of our journey defines what we should take.
We're planning to visit warm and cold places. We plan on going trekking or hiking for most of our trip,
As a general rule, we want to keep it light. Forget about our entire closet, it's not all going to fit. Pack as if we were leaving just for a weekend. Believe me, we can survive just on that.
Also remember: if we pack light and grab a small backpack, we don't have to check-in our bag in airplanes and thus we'll save tons of money.
Here's what we"re planning to take:
One or two pair of shoes + one pair of flip-flops (we're gonna need them in hostels)
2 shirts and/or t-shirts
2 pair of pants + 1 pair of short
3 pair of underwear + 3 pairs of socks
1 sweater + 1 jacket
Sunglasses, + hat
Sunscreen, toothbrush, toothpaste, shower gel
A small camera (forget about a DSLR with 7 different lenses)
An unlocked phone, and a universal power adaptor
A small first aid kit
Things to deal with prior
Passport + Visa
Check that we have a passport in order (expiring at least 6 month from after we last day of travels) and that we have all the visas we need.

Health
Just get our shots before traveling. We don't want to die from yellow fever in the middle of the jungle. Some countries even make some vaccines shots mandatory prior to landing on their soil.
Make sure we'in good health before we leave and go see our general Practitioner, our dentist, our dermatologist…
When it comes to health insurance, each nationality differs, but most often than not, we're not really covered when outside of our country for a long period of time.
We should check private companies such as WorldNomads or MSH International.
Money
Sort things out with our banks prior to leaving. We'll be more than likely able to communicate via email, but won't be physically present to sign anything for the next year to come.
Check out what credit cards are best for us when we travel and if our bank as agreement with banks from other countries. Check out what insurance coverage we get from our credit card. We shall warn them about our travels so they don't block our account or credit card in the middle of our journey.
Money is of big importance when you travel. The less you spend, the more you can travel.
Where to go and for how long
That is up to us my friend. We are all different in what and WHY we travel.
A lot of people like to aim for "developing countries" because it is usually cheaper to travel inside these countries and you can thus travel longer.
If you know how to budget a trip however, you can spend as much time in a "developed country".
We also want to check seasons. If you only packed warm clothes, don't go to Mongolia during winter. Check the monsoon season in South-East Asia before going there. Remember that the seasons change depending if you're on the North or South Hemisphere (winter in the North = November to March – winter in the South = May to August).
---
How to go green when you travel
CELESTE BRASHLonely Planet Writer26 SEPTEMBER 2014
Traveling green takes a little extra effort at first, but it soon becomes second nature and those extra steps can enhance every trip you take. Not only will you feel better about your travels, but you'll also leave a more positive impression on the place you visited and often have more meaningful experiences along the way.
We believe responsible travel is a force for good: it can open hearts and minds, give us a broader understanding of the world, and inspire us to make a difference; but when you consider the environmental impact of commercial aviation, the sometimes negative effects of tourism on other cultures, and the trail of strained resources travelers can leave behind, tourism doesn't look so pretty.
Here are our tips for going green with ease and making travel better for everyone.
At the planning stage
Choose an ethical travel destination
Independent nonprofit organization Ethical Traveler ranks destinations each year by their environmental protection standards, social welfare and human rights record (https://ethicaltraveler.org/reports/destinations/worlds-best-ethical-destinations-2017). It's a good idea to check the "Addendum: Destinations of Interest" section as well to broaden your choices and see what countries made the top 10 in previous years (https://ethicaltraveler.org/reports/destinations/the-worlds-ten-best-ethical-destinations-2016/).
By visiting countries on these lists, your tourism dollar supports their efforts to create sustainable tourism industries, and encourages other destinations to follow suit.https://e1c66553ac39f39bffbe641d7bd62132.safeframe.googlesyndication.com/safeframe/1-0-37/html/container.html
Choose a green hotel
Look for certified green hotels that are in LEED Certified buildings (usgbc.org/leed), use renewable energy, recycle, use environmentally friendly cleaning products and offer options for guests to make an impact (such as not having the sheets changed daily).
There are several certification programs – the better-known ones include Green Key Global, Green Globe International, Green Seal and EcoRooms & EcoSuites. Staying in smaller, locally run hotels and B&Bs is often the greenest method around, making your stay environmentally and socially responsible as well as being a more direct boost to the local economy.
Choose a green tour company
Again, going with an independent local guide can often be the best way to ensure your money is doing the most for your destination's economy.
When looking for a tour company look for the following:
The company proudly promotes their ethical practices.
They use green office products.
You can tangibly see how they contribute to the community.
They respect the local flora and fauna.
They take destination-specific social and political issues into account.
While you're on the road
Use public transport, bike or walk
Using public transport or travelling under your own steam can cut your environmental impact, and also allow you to meet locals and experience a culture in a slower, more detailed way. Instead of renting a car, hop on a local bus; take a walking tour or view the countryside by bike. For long distances consider trains, which allow you to see the country out the windows while meeting locals at your seat, the cafeteria or lounge areas.
Don't use plastic bottles
A small water filter such as a battery-powered Steripen (steripen.com) easily fits in a daypack or purse and can make tap water safe to drink. You can treat water by the liter if you carry a wide-mouth bottle, or you can dunk the device directly into your glass at restaurants, etc, to zap ice cubes and fruit juices. This allows you not only to reduce your plastic bottle consumption but also to feel safe drinking a wider variety of local beverages – including ice cold drinks on hot days.
Eat locally sourced food
Support the region's farmers, get a more authentic taste of the cuisine and cut your carbon footprint even more. Look out for restaurants advertising local produce or, if that's not possible, eat local dishes at mom-and-pop-style places that will most likely use what's produced nearby. Whatever you do, don't eat endangered species like turtle or over-harvested shellfish.
Know when, and when not to volunteer
We all want to help, but take the example of Cambodia, where so many travelers wanted to volunteer at orphanages that fake ones were opened to make a healthy profit. For more detailed information on this issue, check out our article: Voluntourism tips: is it ethical to visit orphanages?
In general, places that involve animal welfare or the environment are the most likely volunteer opportunities to be legitimate. Of course there are all sorts of organizations doing incredible humanitarian work; just be sure to do your homework before donating your time and money.
Do your homework on any tour involving people or animals
It's easy to get caught up in the excitement of a close encounter with an indigenous tribe or exotic animals but stop for a minute, think logically and ask questions before you support a business that may be doing more harm than good. Just because an experience is offered, promoted and everyone else is doing it does not mean it's the ethical choice.
Leave a light footprint
Take simple steps such as not getting your sheets changed daily at your hotel, taking short showers, keeping air-con use to a minimum and turning off lights when you don't need them. Research your destination by internet or ask around to find out if there are water shortages, how energy is produced, and if there are any resource issues to be aware of. And use your eyes. Seeing the giant, noisy, gas-guzzling generator that produces the electricity on that desert island will make you think about it every time you flick a switch.
Don't dump your stuff
Many developing countries don't have the means to dispose of bulky, man-made items like old electronics, polyester clothing or used batteries. If you leave them, they could remain in a landfill or worse for literally hundreds of years after you're gone. Pack your trash and take it home. The exception is clothing and items that may be of use to local people – these should be donated to local charities or religious organizations so they can reach those most in need.
When you come back home
Carbon offset
Calculate your carbon offset via this handy calculator at Sustainable Travel (sustainabletravel.org/utilities/carbon-calculator). While it's better to concentrate on shrinking your footprint in the first place, a contribution to carbon offset programs will help by funding reforestation and renewable energy projects.
Intrepid Travel shares its top 10 practical tips for environmentally friendly travel.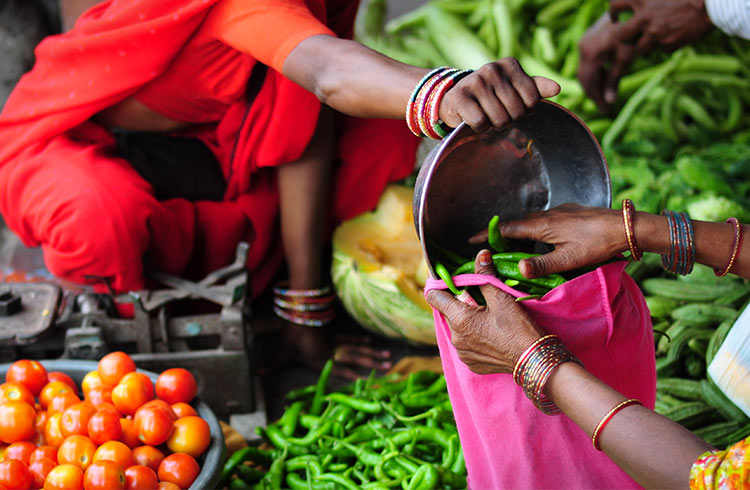 It's one thing to want to be more eco-friendly, but it's sometimes hard to put that into action. Eliza Anderson of Intrepid Travel reveals 10 practical tips for environmentally friendly travel that are easy to achieve.
1. Don't bag it
You want memories of your holiday to last for years, but 500 years is far too long. Plastic bags can take that long to biodegrade so take a re-useable shopping bag with you when you go to local markets.
2. Pack lightly
Every kilo counts when flying. The more a plane weighs, the more carbon emissions it produces. Pack only what you need – the environment will thank you.
3. Share the load
Taking public transport is one of the best things you can do for the environment when traveling. It means you're not creating any additional carbon emissions from private transport. It will also add to your travel experience, providing you with opportunities to interact with locals.
4. Travel overland
Cut out just one five-hour flight and your carbon footprint will be a tonne lighter. And you'll get to see more of the countryside too!
5. Enjoy a near beer
Drink a locally brewed beer and not only will you probably enjoy a high-quality ale, but your drink can be low-carbon by cutting down on 'beer mileage.' This applies to eating local produce too. Let your taste buds be adventurous – it's carbon-friendly!
6. Be at home in a hotel
A great tip is to remember to act in a hotel like you would at home – avoid getting clean towels when not necessary, don't have long showers and remember to turn off TV, lights and aircon when you leave the room.
7. Choose a carbon-offset adventure
Not all carbon emissions can be avoided whilst traveling. Intrepid Travel has a range of adventures that it has calculated the carbon emissions for, reduced wherever possible and offset what remains. The emissions from transport, accommodation, activities and waste have been accounted for and the cost of offsetting is included in the cost of the trip.
8. Avoid bottled water
Plastic bottles account for a lot of waste. Intrepid Travel has worked with hotels in Asia to install water filters that travelers can use to fill re-usable bottles with safe water.
9. Stick to the path
When hiking, always stay on marked trails and maintain a safe distance from any animals you encounter. Going off the beaten path could mean you trample on protected or endangered plants.
10. Power in numbers
Smaller groups tend to have less of an environmental impact, so travel with a small group tour operator that's environmentally responsible. Before you book, ask what size the group will be. While you've got their attention, why not also ask how the operator gives back to the community you'll be visiting.